Yoga Retreats
Yoga & Nature Retreat
The Netherlands
31 August – 3 September 2023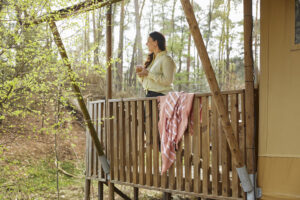 Reflect, Restore, Rejuvenate
"The retreat group was a safe space to be myself again, try new things and have fun! Great company, beautiful woodland setting, walks, Yoga philosophy, poetry, Yin Yoga, delicious food. Back home again, the feeling of being nurtured and encouraged stays with me." ~ IS
Special yoga program involving deep inner reflection, yoga and rest time, including a short focus on setting and communicating healthy boundaries in your life.
Holistic approach gives you tools to release old, unhelpful patterns and build sustainable practices for your health and well-being, including connection, movement and life purpose.
Yoga therapist Natasha will also bring in the Japanese art of Shinrin Yoku or 'Forest bathing' on our walks.
Bonus: Personal Yoga Therapy consult (30 mins) followed by a private, 45-min session after the retreat.
About an hour's drive from Eindhoven in Veluwezoom National Park. Easy to reach by car. Or take the train to the nearest village, Velp or Arnhem, and we can pick you up.
'Glamping' rather than camping' wih all mod cons including heating,  and a private bathroom.
Small group: Places for 9 single bookings – if you bring your partner, we'll have a few more people.
Let's make this exactly what you need.
A little bit of yoga and meditation.

A little bit of walking in the trees.
A little bit of self-reflection.
A little bit of self-nurture.
A little bit of sharing.
A little bit of silence.
What to expect:
Yoga and meditation daily – morn 8:30 – 10:00/ eve 17:30 – 18:45 in spacious, heated lodge tent.
Lunch, and a 2-course dinner from fresh, local produce at the forest restaurant 'Woodz'.
Nine pods with double beds available. All pods have heating, shower, WC, fridge, tea & coffee-making facilities.
Dog-friendly retreat. Bring your loved pet along – ideally with a partner (we can discount costs to account for missed yoga – send us and email).
Prices are all-inclusive (no hidden costs).
Reserve your place:
Single booking: Select either Luxe pod (€795) or Superior pod €820) (slightly bigger extra sofa-bed, with underfloor heating).
2-person booking (2 people in a pod): Luxe Pod 2 persons (€1085) or Superior pod – 2 people (€1110)
Terms and conditions: Any cancellations after 31 July, we retain €300 per person, to cover our reservation costs at the campsite. If anything comes up for you we are willing to negotiate with the campsite to waive some costs.
Send us an email if you have any questions.
What people said about the last retreat: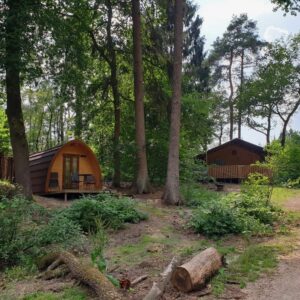 "The morning gatherings were my favourite. A perfect mix of philosophy, yoga practice and breakfast. Great way to start a day of reflection and renewal."
"My most important take away is how powerful can be to reconnect with your inner self and keep it simple. Equally powerful was experiencing the strength of people supporting each other.
I found the retreat a worthwhile experience to refocus, explore and learn essential elements to my well-being. I would recommend it to anyone that needs to get back to basics and boost their identity."  ~ JB
"This was my first time attending a retreat, and my first time practicing any Yoga in 3 years. I was worried my stiffness/lack of fitness would be a problem, but your gentle, intelligent, teaching and guidance quickly put me at ease. I stopped thinking about what I couldn't do, and enjoyed what I could do. ~ IG
"Would definitely recommend! Excellent guidance by Natasha and Hans with tips to bring home based on yoga philosophy. Beautiful setting in the woods, replenishing walks, very good food. 
Only tip would be: more days in this retreat :)" ~ JW
"It was my first Yoga retreat – and I was so pleasantly surprised! It exceeded my expectations and was exactly what I was looking for: Yoga, Nature, movement, with happy-wonderful people. Hans and Natasha are great yoga teachers; motivated, natural, and empathic. Our group were like friends after such a short time, which was very special. A wonderful experience."~SG